Things to Do with Kids in Athens
Athens is a fascinating place to go on a family vacation, but travelling with younger kids and teens can be tricky at times, especially when it comes to finding a balance between things to see and doing fun enough things for everyone. From adrenaline-fuelled excursions and mind-expanding cultural tours to relaxed times chilling together as a family – there is always something to entertain the whole family.
We've discovered how to get the best of Greece's capital city when traveling with kids and teens, so here we have created a list with our top reasons why Athens is great place to see with teens and tweens.
1. The history and culture of the city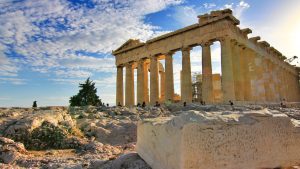 We couldn't talk about Athens without mentioning its universally recognised cultural and historical heritage. Its most famous attractions, such as the Parthenon and the various temples which pepper the streets of the city, reflect all this history and the Greek traditions and myths are continued throughout the centuries, and can be seen at every corner. If this part of the Greek capital interests you and your family, than consider booking a private family-oriented tour with a friendly skilled tour guide that will show you and your family around through us. Just drop Europe4kids an email with your details and preferences!
2. The views in Athens are definitely #instaworthy!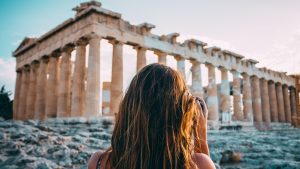 All teens like being active on their Instagram and Snapchat accounts, and, to a lesser degree, Facebook and Twitter. So they will probably jump around with joy if you tell them that you are doing the Athens Instagram and Photo Adventure Tour. This is not a historical/archaeological tour, but one aimed at showing you the most beautiful and picturesque sights that the city has to offer. The 2.5 hour tour includes a walking tour guided by a local who will help you take creative photos of the most iconic sites and hear interesting stories about the local culture. There are also 2 food stops on the way…
3. Athens is alternative and artsy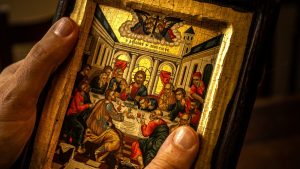 Open-air cinemas, street art from the 90s and rage rooms come together to create the more creative, artsy, strong underground culture. Beyond the historical touristic attractions, vast green spaces and child-friendly museums, there are so many fun and unusual things to do with your teens and tweens in Athens. Your younger children can bring out their inner artist with a Greek mythology comics workshop, where they will get the chance to see a real comic artist creating a mythology comic and have a try at designing your own superheroes. To learn more about unusual things to do in Athens with teens, click here.
4. The insanely good Greek food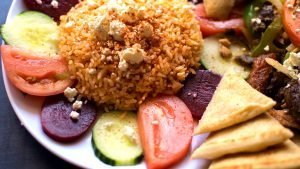 What will my kids eat? Will they like their food? Will it be healthy, or is it junk food? Finding the perfect meals to suit the wants and needs of all of their children can often be a source of stress for parents when travelling with their youngsters. Fortunately, in Greece, the culinary culture is exceptional and follows the balances and healthy Mediterranean diet. Vegetables, fruits, cereals and cheeses are at the core of the Greek cuisine. There is something for everyone — loukoumades for those with a big sweet tooth (round fried dough with honey and nuts); 'Beefteki' (like beefburgers), 'pita gyros' (meat wraps) and 'keftedes' (meatballs)  for the meat lover; greek salad or watermelon with feta for the healthy eaters in the family! We offer award-winning food tours in Athens where participants can sample local delicacies while strolling around the city! If you want to get your hands dirty and feel like learning how to cook traditional Greek recipes, than look into our Greek food cooking classes. What a fun way to get your children and teens interested in a new culture through food! What better way is there to remember a family trip to Greece than to reproduce these special dishes at home months later and for years to come?!
5. The warm and breezy summer weather
If you are looking for a sunshine escape, Athens is a great option. In the summer months, temperatures can get a little too hot, reaching 40 degrees Celsius in the city. This is the time when most of the locals escape to the nearby islands and beaches. So do the same! If you come in February for a relaxing and recharging winter break or bask in warm sunshine in May and October – you will fell refreshed.
6. The islands are at your finger tips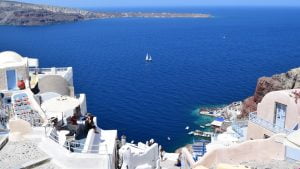 You are visiting the capital of a country with an extensive coastline, which is home to over 6000 islands! You have to take advantage of the fact that you are only a ferry ride away from some of the nicest beaches in the world. Every island is special and unique in its own way.  Athens is perfect if you want to incorporate some days of splashing in the water with fun cultural sightseeing. You can also consider taking a sailing trip for one or more days to the Islands nearby Athens. To learn more about sailing destinations on the Greek islands, check out our blog post here. The crystal-clear beaches and coves on the mainland are also exceptional.
Overall, Greece is an easy country to visit with kids and teens. There's plenty to see and do for everyone in the family to have a fun! Going to Athens is always promising for a versatile and exiting trip. As we have shown, along with the historical monuments, open green spaces and child-friendly museums, there are plentiful other activities for families visiting Athens. We hope you feel inspired.