Wouldn't it be incredible to spend your Christmas break in a city celebrating this beautiful season like no other?
From it's colorful Christmas markets to the amazing light displays illuminating its ancient monuments, Rome is definitely one of the greatest cities in Europe to get those happy jingle feels going. There's just something in the air that makes the whole city light up merry and bright. If you are still not convinced, we are here to give you 6 good reasons why Rome is the perfect Christmas destination.
1. GO CHRISTMAS SHOPPING IN ONE OF THE MANY ROMAN MARKETS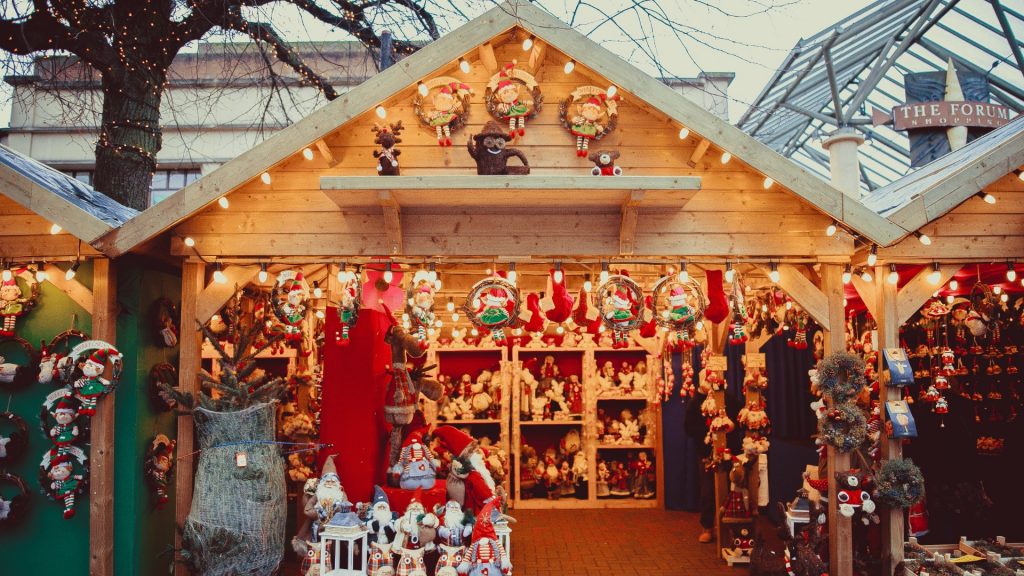 The only thing you should be truly worried about when traveling to Rome with your family over the Christmas holidays is how much not to pack in order to leave enough space for all the things that you have bought over in Italy to fit into your luggage. Trust us, you won't find such unique gifts anywhere else in the world like at a Roman market! The most famous is the every-day market in Piazza Navona, which morphs into a Christmas bazaar at the beginning of December until the 6th of January. Here you will find toys, roasted chestnuts, original handmade crafts, and many other things on sale that make for the perfect gift for a friend or family member.
2. GET BLOWN AWAY BY A CHRISTMAS CONCERT AT THE AUDITORIUM DELLA CONCILIAZIONE
Who does not enjoy listening to classic carols during the Christmas season? Lightening your night with a little jingle might just be the perfect idea to keep all the members of your family – even the little ones – engaged and happy! The Auditorium in Rome offers a fantastic selection of Christmas songs from a variety of performers throughout the holidays. Musical groups and performers from all over the world have been carefully selected to entertain you and your little ones with top-notch a-cappella, instrumentals, and dance performances! Are you ready to be blown away?
3. ADMIRE THE CHRISTMAS LIGHT DISPLAYS THAT ILLUMINATE ROME'S ANCIENT STREETS.
As you stroll through the ancient city center you will notice that the majority of the main roads are beautifully adorned with special Christmas lights. Of course, there are various cities around the world that could, arguably, be considered as contenders because of their incredible light displays. There is, however, something special about the ones you will find in Rome. There is an unrivaled charm in the contrast between the thousand-year-old monuments and architectural wonders lining the streets and the modernity of the colorful light designs that illuminate your path.
4. RECEIVE THE TRADITIONAL BLESSING "URBI ET ORBI" ("TO THE CITY OF ROME AND TO THE WHOLE WORLD") BY THE POPE HIMSELF!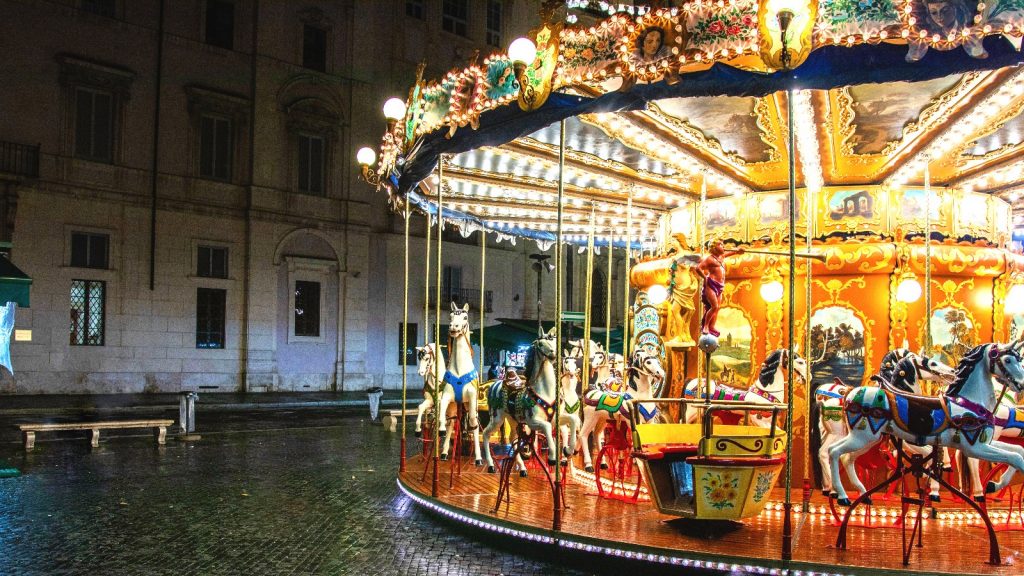 Rome is the only city in the world that houses the grounds of the Vatican and, with it the Pope himself. This means that Rome is the only place on the planet where you can receive a Christmas blessing directly from the Pope himself at the enormous mass celebrations that occur over the Christmas period! Christmas is one of the best times of the year to be with your family and the people you love most, but this festivity also has significant religious meaning to many people.
Whether you are Christian or not, being present at and living such a touching experience is something that you and your little ones will never forget!
Insider tip: If you want to participate in the special mass on Christmas Eve in St. Peter square than you must book your ticket on the Vatican website ahead of time!
5. FILL YOUR BELLY WITH DELICIOUS ITALIAN DELICACIES FEAST ON CHRISTMAS DAY
The famous Italian saying goes, "When in Rome, do as the Romans do". So, Romans eat a huge family lunch on Christmas Day. Nana cooks way too much and the kids and grandkids gobble it all up without a moment's hesitation. Unfortunately, not everyone has a big Italian family that loves cooking, but don't worry, plenty of restaurants will be open, serving delicious dishes of traditional Christmas meals, such as abbacchio, lamb cooked with garlic and rosemary, possibly small pieces of ham, accompanied by potatoes or other hearty vegetables, and desserts!
Insider tip: Something could be even more exciting if you and your children cooked your own Christmas meal over the Christmas holidays! If this sounds interesting then check out these cooking classes in Rome that run all year round.
6. ENJOY THE ORNATE NATIVITY SCENES CREATED BY ROMAN CHURCHES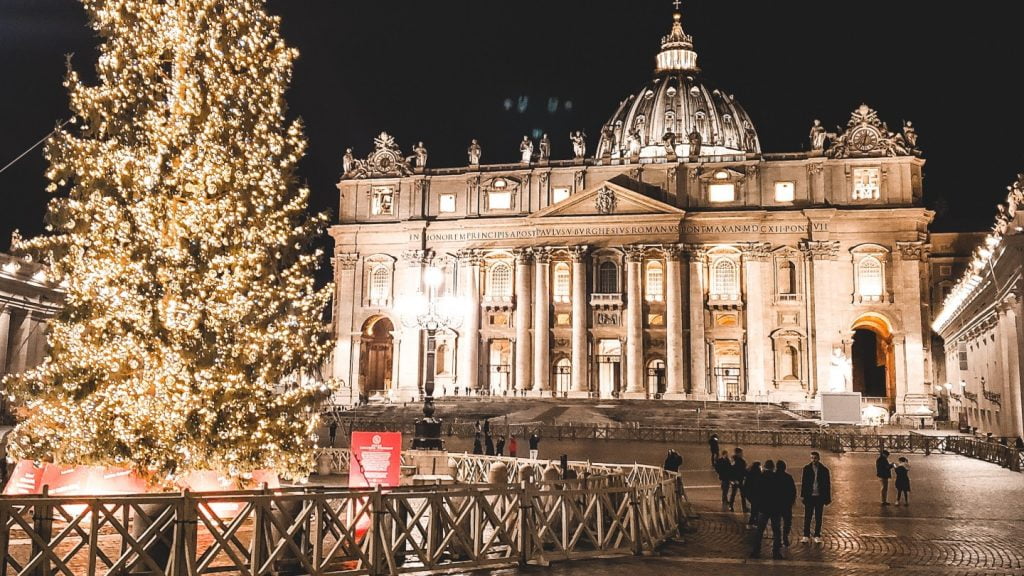 Nativity scenes that are set up at Christmas tend to be small and are laid out upon a table in one's home. Over the years people buy craft and exchange figurines with other families. It has become a communal tradition that brings families closer in such an exciting time! The first-ever Nativity was set into motion by St. Francis of Assisi in 1223 AD in a cave in Greccio, a small Italian village, with two live animals—a donkey and ox. How cool is that? Most Italian cities recreate the Nativity scene in their main square, but Rome takes this tradition to a completely different level. Churches all around the city create incredible scenes of all different sizes and styles. The Nativity at Basilica of Santa Maria in Aracoeli even features life-size figures singing hymns.
In conclusion, Rome should be your go-to family destination over Christmas! There is so much to do in this magnificent city, especially during this festive time. If you're looking to learn more about this incredible city and what it takes to maximize your time there, check out this blog post, featuring the things you should avoid while traveling with children in Rome!