Sailing In Greece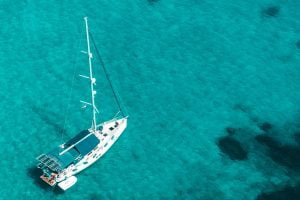 The Greek archipelago is an incredible playground for both amateur and experienced sailors. Its numerous secret coves and beaches only accessible by boat. Additionally, you can use your yacht as a floating base for many other fun activities, like fishing, diving and windsurfing. Then, once you start getting tired of the sea and start craving some sand between your toes, all you need to do is point your boat in the direction of the nearest bay or port.
What is the best time to go sailing in Greece?
In Greece from May until September, hundreds of yachts sail the Greek waters, providing the ideal mode of vacation with an incredible sense of freedom and connection with nature. It is generally agreed upon that the best time to sail in Greece is slightly off-season. This means either end of May and September. The reasons behind it are the following: it is less busy, less expensive, less hot, yet it still feels like summer.
How expensive is it to charter a sailboat?
The costs involved in chartering your own boat largely fluctuate according to the type of boat, its size, add-ons, mileage covered (which translates into fuel expenses) and the time of the season. The season is subdivided into 3 main periods: one of low (winter months), one of medium (before May and after mid September) and on of high demand (from the end of July to the beginning of September). A generic approximation would be that, in order to rent a 36-38 ft sailboat, which is fully equipped with 3 cabins and 2 bathrooms, in high season, would come to this 2,000 per week. This would amount to an average of roughly 60 euros per day per person. This price, however, excludes the cost of fuel (which can reach 150-200 euros every week depending on the mileage), and harbor fees. However the latter is not too problematic as the majority of Greek harbors are municipally owned and tend to charge circa 3 euros per night.
Should I rent my own private boat? What other options do I have?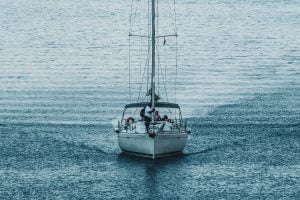 There are plenty of options when sailing in Greece. Bareboat charters are available in all parts of the country. Most of them offer return charters but a vast majority also provide the option of doing one way charters. Another fun thing you can do is a floatilla. This mode of holiday is popular and available in all areas of Greece apart from the Cyclades. However, you will not find a lot of options in the Sporades and Dodecanese so if your heading there don't leave it late to book.
Will I need a skipper?
The first question you should ask yourself when taking into consideration a sailing holiday is whether you want and/or need a skipper. If the answer is yes, either because you do not have the qualifications yourself, or because you simply don't feel like doing all the work yourself, the chartering company will provide you with a captain to your vessel. On average, skippers receive about 1,000 euros per week, (not including their meals, for which it is usually expected that the client pays for). If you are doubting hiring a skipper as you are unsure whether you feel comfortable sharing a confined space with a stranger, keep in mind that professional skippers have been trained to keep a low profile. The option to travel 'bare boat' (without a skipper) is your other alternative, but it is only possible if you have the appropriate qualifications.
Can I be my own skipper?
In order to hire a boat without a professional skipper and drive the vessel yourself must be certified with an RYA Day Skipper International Certificate of Competence (ICC) or an equivalent license from a registered open-water sailing institution. If you have received your license from a sailing school located outside the European Union, you will be forced to to have it translated and/or certified.
Would it be advisable to hire a skipper?
Your level of sailing knowledge is not the only criteria when pondering on whether hiring a skipper is the best option for you. Consider the location you are traveling to and the level of expertise needed. The Saronic Gulf, Ionian islands, Sporades and Haldiki are paradises for bare-boat trips as the wind tends to be relatively light and the sea calm. On the other hand, the Cyclades and Southern Aegean islands require far more experience. The stormy summer meltemi winds in the region regularly reach strengths of 5 to 7 Beaufort (and often even more!), so unless you are a hardened sailor it is better to hire a professional. Skippers also add the benefit of their detailed local knowledge, guiding you to the best beaches, coves and harbors depending on the weather. This feature can definitely make the difference between having a good holiday and a phenomenal one! Furthermore, having a skipper on-board takes the pressure off of you and your sail buddies. After all, you are there to sit back and relax. But maybe you're a hands-on person and the whole fun is in tying those knots and tightening the sails.