Sailing In Croatia
Featuring an incredible coastline, 2,000 rocky islands, islets and reefs, crystal clear waters and splendid coves, Croatia attracts an increasing numbers of families for sailing vacations every year. The coastline is relatively unspoiled by mass tourism. It feels a little like being at the French Riviera in the 50s or 60s.
Where is the best place to sail?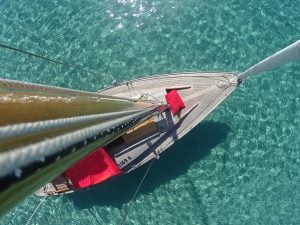 If you and your family want a trip that is more rooted in the wilderness, than the Kornati archipelago, with its is the place to go. Many call it a sort of gourmet paradise, with its deserted beaches and its amazing culinary culture. It might be good for the kids to destress away from the crowds during your family vacation. It can be easily reached from the marinas at Zadar, Biograd and Murter. In the south of Croatia, towards Montenegro, Cavtat, on the mainland close to Dubrovnik airport, is an acclaimed superyacht destination. You will get to see some of the nicest yachts there are. Pelješac, Korčula, Mljet's saltwater lakes and large bays, the remote Lastovo, the remote islands of Lopud and Šipan are also incredible must-see family destinations. More towards the north, the Istrian peninsula and Kvarner Bay boast many fully-equipped marinas and a more cosmopolitan feel compared to Dalmatia. This is because, due to the vicinity of the Italian border, there has been a significant influence in the architecture, food and culture. Additionally, Lošinj, Rab and Brijuni are highly attractive harboring spots for luxury yachts. In central Dalmatia you can find some of the more easily accessible and, consequently, highly frequented islands. There are loads of marinas and charter bases within easy reach of the Split airport. Brač and Hvar are the party islands, which we only recommend if there are young adults in the family that enjoy a good nightlife scene. The more gentle islands of Vis and Šolta will allow you to relax after a couple intense nights out. If your kids are too young and partying is not of interest, do not worry! These islands also house some of the most incredible natural wonders Croatia has to offer. High rollers should head to Trogir and Hvar town. After partying all night in Hvar, relax at the neighboring Pakleni islands, the perfect anchorage to soothe the spirits.
How To Choose A Sailing Route In Croatia?
If you only have a week, your best option is to cruise from Split to Dubrovnik or from Split. By doing so, you will get to see some of Croatia's most celebrated islands, and the travel times between the islands will be an average of 2 hours, allowing you to fully explore every harboring spot with your family. If you have the chance of staying longer, than you should look into starting your journey north in Zadar and cruise south to Kotor in neighboring Montenegro.
What is the best time to sail in Croatia?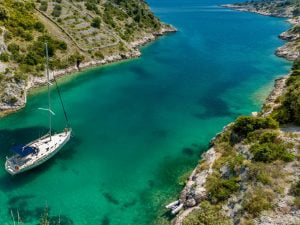 The sailing season in Croatia starts at the beginning of May and tends to finish in mid October, weather permitting. The climate is usually outstanding. The wind is steady and constant, the sun an overarching reminder of summer and the levels of humidity perfectly enjoyable.
The temperature of the sea is quite chilly at the start of the season and it slowly rises, reaching its peak in late August.
How much does it cost to charter a yacht in Croatia?
A standard one week charter on a Bavaria 46 housing up to 4 people and a skipper will add up to circa €2,500 in late September and around €3,500 in late July/early August with a company like BavAdria Charter. In addition, a skipper will cost you approximately €125 per day. You also need to consider the food and anchorage expenses that you are likely to incur, which average at 100 euros per day. The cost of your trip depends not only on the number of people, but also on the type of sailing adventure you want to undertake. Here is a list of the best charter and floatilla companies that offer trips in Croatia.
When is the best time to book a yacht in Croatia?
Whatever you do, the best thing is to book as early as possible. Shop around and look at what different charter companies offer. Check the small print for any extras, such as a final clean, an outboard motor for the dinghy, extra sails, towels, etc…Try to avoid the peak months because prices will be higher, space in Marinas will be restricted. Also make a sure that the boat has a Bimini (a cover to protect against the sun). You don't want your kids to get sunburnt on your sailing trip – that would not be fun!