Planning ahead when traveling with kids is of the utmost importance. That is why it is crucial be informed regarding the in's and out's of the destination you are planning on visiting. Please know that Sicilians are very welcoming and warm and they will love to have you ahtough they may have to communicate with hands and feet rather than in your language.
Accommodation
Th beauty of Sicily is that, as a rule of thumb, apartment rentals are quit easy to find. Additionally, these tend to be the preferred mode of accommodation for families who want to self-cater. Another great option, beyond the many hotels, are the so-called pensioni or guesthouses, which tend to offer reduced rates for kids or will add an extra bed. The third preferred option is that of Agriturismi, or farmstays. Agriturismi are excellent for kids as they are always set in nature. Here, the kids will get a chance to run around in the large gardens of the holdings, or play with some of the animals that are likely to be found on site.
Dining out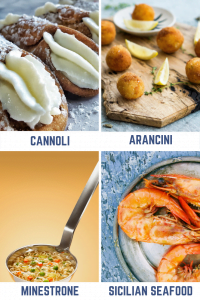 Going to restaurants it's your family should problem. It is absolutely normal to order a "mezza porzione" , a half-sized portion of any place on the menu, or even order "off-the-menu", usually requesting simpler versions of certain dishes. "Pasta in Bianco", simple white pasta or "minestrone" or vegetable soup are usually good alternatives for toddlers and kids who are not adventurous eaters.
Sicily is known for its superb ability to fry everything to perfection — so do not miss out on on-the-go snacks like arancini (fried, stuffed rice balls).
If your children are more open to try new foods, you should consider expanding their palate with typically sicilian varied seafood, fish, meat and veggie dishes. Gelati and yummy granite, crushed ice with various flavors and the many Sicilian dolci – desserts – will be fought over by the entire family so be diplomatic about sharing! Also, high chairs for the little ones are usually readily available so there should be no inconvenience regarding seating.
Safety
Sicily can generally be considered a very safe region for families kids. Let your kids run around the squares in small towns  — everything will be ok. Do, however, keep an eye on the many scooters that zoom around…pedestrian areas are somewhat a relative concept in Sicily! And 14 year olds are allowed to drive here so be aware of those crazy teens that may zip by you without respecting the traffic rules.
Keep in mind that:
If you rent a car: car seats and booster seats for infants and small children are available at most car-rental firms, but it is more helpful to book them in  advance, just to be sure that they will be provided.
The Sicilian sun is hot so make sure you don't burn: it is crucial to top up on sun cream even in spring and autumn. It can still be quite warm in Sicily during these times of the year!
Do you need to bring all your baby supplies? No worries! It is possible to stock up on nappies, baby formula, sterilising solutions and other essentials at the vast majority pharmacies and supermarkets — so do not stress!
Insect repellent, especially for mosquitoes) is highly recommended. Sicily tends to be rather humid!
you are likely to partake in some sort of family-bonding outdoor activities. For this reason, pack some comfortable shoes, a pair of goggles and a cap to shield from the sun for every member of the family.
The best times to visit tend to be spring, early summer and autumn. Th elevated summer temperatures can make life miserable for little ones – although going to relax in the shade at some good beaches and the occasional refreshing gelato should make this more bearable!
Book your family friendly tours early: Sicily gets very busy so please make sure you have a child friendly tour set up so the entire family gets the most out of it. contact Rome4kidstours – hey have amazing guides for you!