Italy has 4,723 miles of coastline which are dotted with some of the most beautiful beaches in the world. Of course, the perception of beauty is subjective and depends on people's preferences when it comes to the criteria by which the beaches are judged. For this reason, it is really hard to narrow down which beaches are worthy of being mentioned in a blog post featuring the best beaches in Italy — but here are our top choices!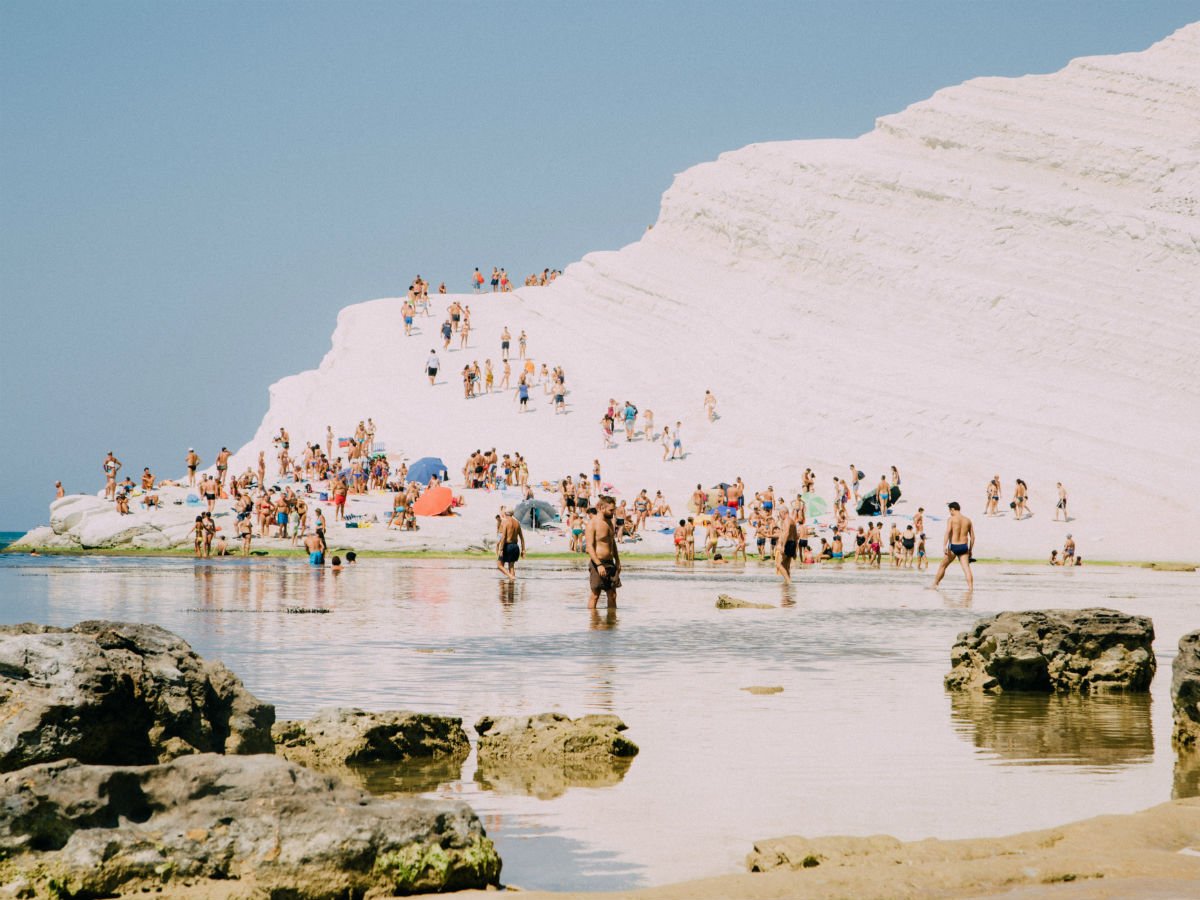 1- Scala dei Turchi, Sicily
Scala dei Turchi is a scenic rocky cliff on the coast near Realmonte, in the province of Agrigento. The bronze sandy stretch extending from the gray pale cliffs down below strongly juxtaposes the azure waters that surround the whole of Sicily. Over the years I has become an acclaimed tourist attraction, so be careful to avoid the high-season months.

2- Chaia Di Luna, Ponza
It could be argued that Chaia di Luna is one of the most scenic beaches in all of Italy. Situated on the small island of Ponza, in the province of Latina off the coasts of Lazio, it is characterized by a thin crescent of white sand towered by a 328-foot volcanic rock wall curved in the shape of a halfmoon. This gives the beach its name "Luna", which translates to Moon.
3- Tropea beach, Calabria
This beach is often called by its nickname — "the Jewel of Calabria". Most of the gravity of this place is that, not being as commercialized as beaches in other regions, it feels as though one is stuck in time 50 years back. Coming to Tropea will allow you to find some peace and quiet here. Beyond the beach, the town of Tropea has so much to offer! Go for a stroll and visit its 12th C Cathedral and clifftop historic centre. The region of Calabria is known for its amazing cuisine, so you will get a chance to try all kinds of Italian specialities.

4- Spiaggia di Tuerredda, Sardinia
Its caribbean-style white sand and clear warm waters are not the only reasons why this beach has become internationally acclaimed over time. Beyond its natural beauty, there are many beachfront bars and restaurants, in addition to the breathtaking view of the Isola di Tuerredda. For people who enjoy a more adventurous and interactive holiday, this beach also offers kayaking and paddle boarding, snorkeling and scuba diving.
5- Atrani, Campania
Everyone knows about the Amalfi Coast and most people have heard of Positano. But have you ever considered looking beyond? The tiny, picturesque village of Atrani is also located on the Amalfi Coast, it is only much less crowded! The spectacular views of the Tyrrhenian Sea framed by two cliffs dotted with beautiful churches and colorful houses is simply breathtaking.
6- Cala Goloritzé, Sardinia
This small cove, located at the base of a ravine on Sardinia's picturesque northern coast, is acclaimed for the enchanting natural beauty of the ivory colored sand, limestone cliffs, and blue-green water. The UNESCO declared it a UNESCO World Heritage Site in 1995 because of its striking scenery and dramatic backdrop. This beach is somewhat harder to get to than most beaches but it is definitely worth the extra hassle!
7- Cala Pulcino, Lampedusa
Cala Pulcino is also not the easiest beach to get to. It will require a half an hour hike over rocks and through thick vegetation to get there. However, upon arrival you will be rewarded with one of the most stunning views of your life! Lampedusa, the largest of the Italian Pelagie islands, houses some of the most remarkable natural wonders in all of Italy.

8- Spiaggia di Sansone, Elba 
Tuscany's Isola D'Elba houses many contenders for this list, but Sansone definitely overrules the competition. Only 300 meters long, this beach will take your breath away with its white sand and transparent waters. It is also perfect for those that do not love wild nature. There are sun-beds to rent and a small café for those craving this shade and a cold beer.