Where do you get the best gelato in Rome?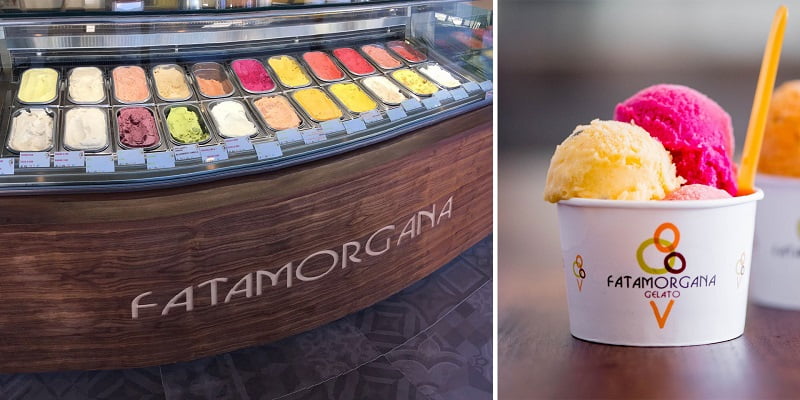 Gelateria Fatamorgana is the ideal healthy gelato place. If you are worried about the harm of artificial flavouring, or have intolerances to gluten or dairy, then one of Gelateria Fatamorgana's shops is the place to go! Fatamorgana prides itself on using organic ingredients to create a mind-blowing taste and on its low calorie, artificial flavouring free gelato.
Here, at Gelateria Del Teatro the variety of gelatos revolves around fresh fruits and nuts. There are of course amazing flavours of gelato that are 'cream-based', for those who prefer them. Kids might not love the idea of having fruits as snacks but, they can never reject a cup of ice cream! What better way to reach a compromise? Stop by one of their stores and explore other ways to get your kids to have fruits willingly.
Have you noticed anything strange about the name of the gelateria? Well, how about the fact that 'Otaleg' is 'Gelato' spelt backwards? Gelateria Otaleg is a funky and refreshing place! Here, they like to turn things on their head…shake things up a little bit — if you know what I mean. It was even voted "Best Gelateria of 2014", and although one might argue that that is quite some time ago, if there is one thing that Italians do well, it is the maintenance of traditions. Marco Radiconi, an award-winning gelato chef, wants his customers to feel as though they are traveling back in time, feeling the same emotions they were when tasting their gelato as playful children. Another element of his creations is the elimination of all superfluous sugars, emulsifiers and additives that help the gelato stay good for days at a time.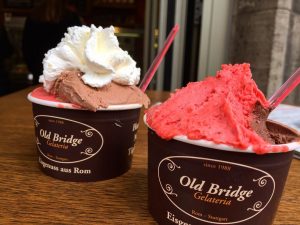 More than 30 years ago, this Gelateria began as a small booth close to St. Peter's square by the Vatican walls, thereby attracting loads of tourists that needed a little energy boost after a long visit to the Vatican museums or a walk through the streets of Rome. It became known among locals for the portions of its gelato. A small one is the equivalent of a large anywhere else – I promise! You just need to feel ready before you start because they are huge! The owners of Old Bridge opened another one in Trastevere, a cool, hipster neighbourhood, and another close to the Cornelia Metro Station in an area that is not touristy at all. This shows how much it is loved by locals. The lines are aways long, but it is always worth the wait!
Amazing tastes, and although they do not have an enormous range of flavours, they should have enough to satisfy everyone and, most of all, they create interesting twists on typically roman gelato flavours. Another great thing about Gelateria La Romana is that they include optional free warm chocolate (either dark, hazelnut infused milk chocolate or white chocolate) to pour inside their cones — and if you feel cheeky than you can ask for them to put it on top of the ice cream as well! Whipped cream is included as well, but, unlike most other places, Gelateria La Romana is famous for its homemade whipped cream, which comes in different flavours as well, usually cinnamon or Zabaione (a light custard made with egg yolks, sugar and sweet wine, traditionally Marsala wine). However, if you want to try a little bit, just ask your server if you can try some with a little spoon. The polite way goes like this: "Potrei provarlo, per favore?". Beware: mostly locals come here, so the level of English might not be perfect and you might have to gesticulate a little bit to make yourself understood.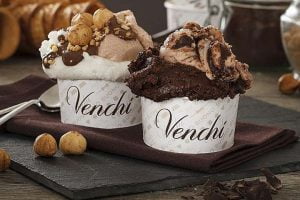 Venchi started as an Italian chocolatier in 1878 in Piemonte, one of the Northern regions of Italy. It has become one of the best places in the world to find luxury chocolate. There are many Venchi places all around Italy. Some of them even have a gelateria in the chocolate shop. In Rome, the biggest ones are close to the Pantheon and just off via del Corso. This one features a huge wall where liquified chocolate runs down it! They even opened a gelateria Venchi at the airport and the main train station of Rome, Termini. If you are planning on catching a train from here and want to squeeze in a gelato break than plan a good 20 to 30 minutes into your schedule. Gelateria Venchi always has a line. To be honest, it is a little bit overpriced, when comparing it to the pricing of most gelaterie. However, I highly recommend the chocolate flavour as it is, afterall, a world-renown chocolate store!
By Alessia H Papini