Things To Do In London With Kids
There is so much to do in London with children that no list could possibly ever include all of them! It is such a big city and it harbors so many gems for families with children! Most families end up doing the more "traditional" London itinerary. Visiting dozens of museums and tourist attractions tends to end up in the kids getting bored quite easily and the adults getting frustrated as a result . As a result, we have created a short but sweet list of more unusual things to do for families with kids in London.
1- Explore the treasures of the sea at Sea Life London Aquarium
Situated in the County Hall building just beside the famous and hardly unnoticeable London Eye, which also houses Shrek's Adventure and the London Dungeon, the Sea Life London Aquarium is an incredible must-see highlight for all families visiting London! This place truly offers a kid-friendly experience, with its colorful and dynamic aquariums, interesting exhibits and interactive games for the little ones. You will be happy to know that Sea Life London is not that big, so if your children are tired or hungry, or simply get bored you can be out of there in no time!
2- Hop onto one of London Duck Tours' amphibious vehicles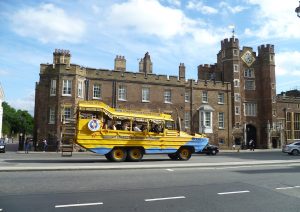 This is one of the more unique ways of exploring the magnificent city of London. Cruising on a rather distinctive yellow amphibious vehicle, which supposedly reenacts the WWII vehicles used for D-day landing, you will get to cover a lot of ground and see parts of London that you and your family would have not been able to see otherwise. You will transition from the chaotic streets to the dynamic river Thames, meanwhile gazing at the most important landmarks and learning little known facts abut this global city. The more popular Tour is is the Classic Sightseeing Tour rivals the entertaining and definitely memorable Historical D-Day Tour, which will take you on a magical journey through time. Warning: unfortunately the company is no longer able to operate its usual range of tours due to Thames Water's compulsory purchase of the slipway that London Duck tours used. Only land-based tours are available at the moment, but if you are not planning on going to London in the near future, this should not be a problem. It is still so fun to cruise around the city of London in a weirdly-shaped bright yellow vehicle!
3- See how many toy stores you can visit in a day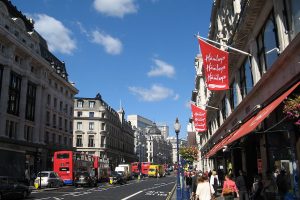 London, being an extremely cosmopolitan city, is one huge shopping centre. There are stores everywhere and people buy like there is no tomorrow! But besides the fashion stores, interior design, restaurants, there are very cool toy stores around the city. The Lego Store and the M&M's Store are both located on Leicester Square. Both are extremely filled with people — at all times — but it is totally worth it to spend at least half and hour in each of those, roaming around, maybe giving some M&M's a taste.The Toy Department at Harrods is definitely worth a visit! Beyond the actual toys that you can play with and buy, the building itself is breathtaking! Let yourself be impressed by the beautifully adorned hall ways, the colorful fish and fruit departments, the Egyptian themed escalators and the luxurious elevators. Then, we have Hamleys, a 6-story building which houses the oldest toy store in the world! As soon as you walk in you will have airplanes zooming over your head and clowns doing tricks with the newest toys. Even the adults will have a blast – trust us!
4- Take a funny family picture next to one of Madame Tussauds' wax statues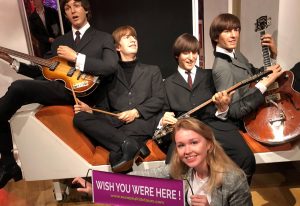 Madame Tussauds is a famous wax museum in London. This place will allow you to get up close and personal with over 250 wax figurines of your favorite celebrities! A standard ticket for anyone aged 16+ will cost 34 pounds. One might think that it is an adult attraction, since the younger kids are probably not familiar with the numerous Hollywood stars, renown singers, members of the British Royal Family and political stars filling the halls. However, this place is perfect for adults and kids alike! There are a significant number of wax statues that will satisfy all of your kids — regardless of age. The older ones will probably enjoy posing next to international sport stars like Cristiano Ronaldo, or next to the figure of a famous singer, whereas the younger ones might prefer characters of legendary cartoons, such as Shrek, King Kong, E.T. Insider tip: the biggest piece of advice anyone can give you for Madame Tussauds is to book in advance! Also, if you can, consider buying the fast track tickets (starting from 49 pounds), which will enable you to beat the cues and avoid you kids and yourself the pain of waiting in line for ages! Finally, book as a family, as the overall cost for the tickets will be lower.
5- Get blown away by one of the magical musicals in London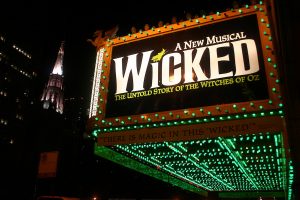 What better way to spend the night than sitting in one of the rows of a majestically designed theatre and being amazed by the talent and passion of some of the most incredible performers the world has to offer. Of course, your choice of musical will depend on the final family verdict, but some family-friendly suggestions are: the Lion King, Aladdin, Matilda and Wicked. Once again, it is highly recommended to book your tickets in advance. You don't want to find yourself unable to go!
6- Watch the traditional Change of the Guard
Some children fins this quite dull, but others absolutely love the pomp and secularity of this event! There are two changing of the guard happenings. The first, and the more famous one is that at Buckingham Palace. Rest assured you will be swallowed by the crowds without a doubt. The best place to see it is on The Mall, near St. James' Palace. The second is at Windsor Palace, about 35 minutes outside of London by train. If you have enough time, it you could make this a day trip. You would even get to see the countryside! How cool is that?
As mentioned in the beginning, there is way too much to do in London and not enough time to get it all done. So, here are a few more things that you should definitely consider doing with your family! The ZSL London Zoo is always a safe bet for everyone in the family and a good way to engage the younger kids on a sunny day. For those more interested in art, culture and zoology, the following museums cater to families with kids: Natural History Museum, Tate Modern, and the British Museum. Finally, fun day activities are the Portobello Road Flee Market and a walk in St- James' Park.