Europe is such an incredibly diverse continent, boasting a range of amazing countries. Some may argue that Europe truly blooms in the spring and summer because of the warmer weather and the more outdoorsy nature of daily life. However, Christmas is when you can experience authentic local cultures and traditions of each country…and there is a certain charm in visiting certain European capitals when the bustling streets are covered in powdery snow or spending time in a mountain chalet where the best thing of all is sipping a hot chocolate next to a crackling fireplace! Also, Europe is quite big, so you will still find warm destinations in the southern part of Europe. So let's get to the list of places you should definitely see when traveling to Europe over Christmas with your family!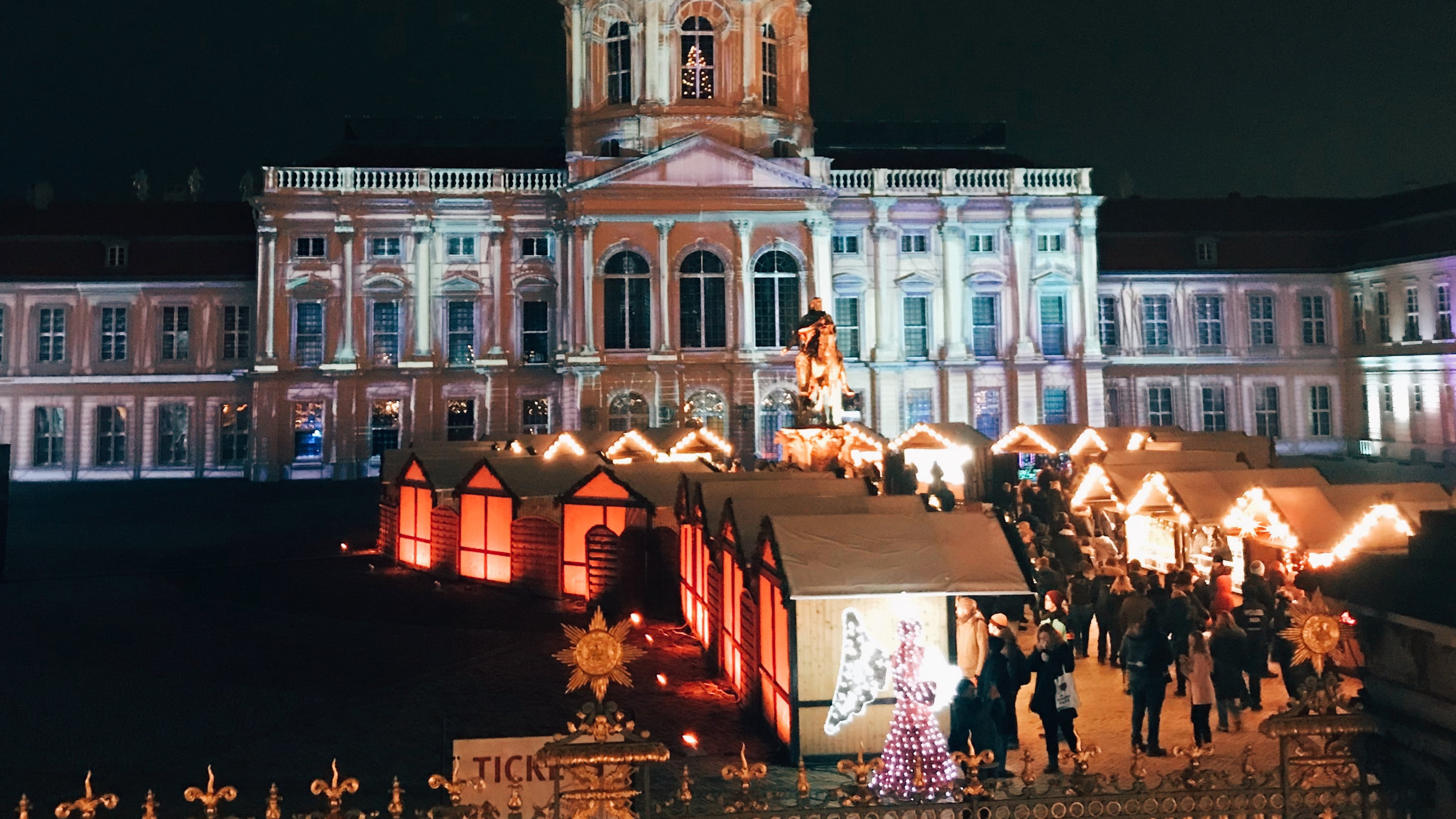 Germany has the best Christmas markets you will ever encounter! It is definitely an ideal place to go to soak up the season. The Berliner Weinachtszeit, situated just behind one of the main squares in behind Alexanderplatz is one of the biggest. The market, alongside a beautiful FREE ice rink (where you can hire skates for €4) is set up every year on the 27th November and ends on 29th December. Keep in mind that it is even open on Christmas Day! In the background you will get to look at the backdrop of Berlin's 50-meter-high Ferris wheel. Santa Claus will be on site roaming through the colorful stalls from which a lovely aroma of mulled wine and gingerbread exudes, to chat with the kiddies. For the animal lovers in the family, the Berliner Weinachtszeit hosts a wonderful petting zoo along with pony rides. The little ones will love it. Another great market, called Dresden's Striezelmarkt, can be found in Dresden. The one in Berlin is bigger and receives more recognition worldwide, but if you are looking for a more authentic experience, than the Dresden market is a much better option. Here you will get a chance to taste regional specialties baked according to the unique Dresden tradition and to play around with the Ore Mountain wood crafts, Lusatian blue-printed fabrics and Moravian stars, which are particularly popular.
2- Tromso, Norway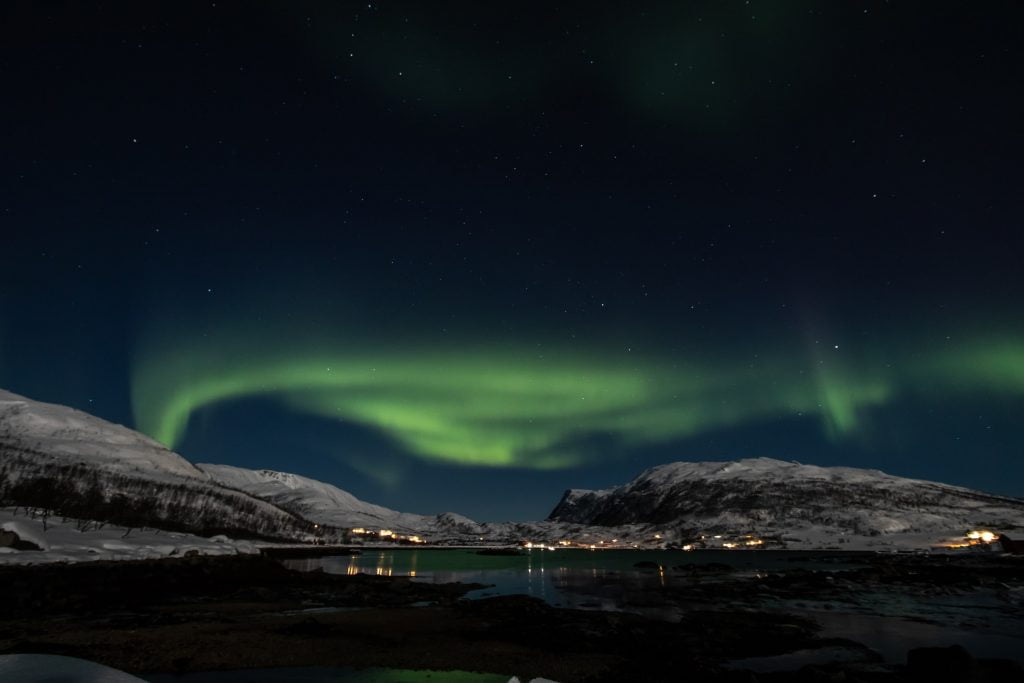 The biggest attraction around Tromso is no particular museum, restaurant or square. The most incredible attraction Tromso has to offer is its breathtaking nature. You may ask: well, what is there to see that makes this place so special? What about gazing upon the dancing Northern Lights? Forget about conventional Christmas light shows. Go hunting for the best sparkly display of natural lights you will every your eyes on. This is definitely a trip that you and your kids will remember forever. If you are feeling adventurous, take part in one of the many crazy Tromso Safaris that are offered around the local city of Polaria! And if the white powdery snow is getting a little too much for you, then wrap yourself in a blanket by the roaring fire, while sipping hot chocolate and maybe even reading a comforting book. After all, we need to find some ways to convince our little ones to read, and what better setting than the cozy atmosphere in an authentic Norwegian wooden cabin.
3- Tenerife, Canary Islands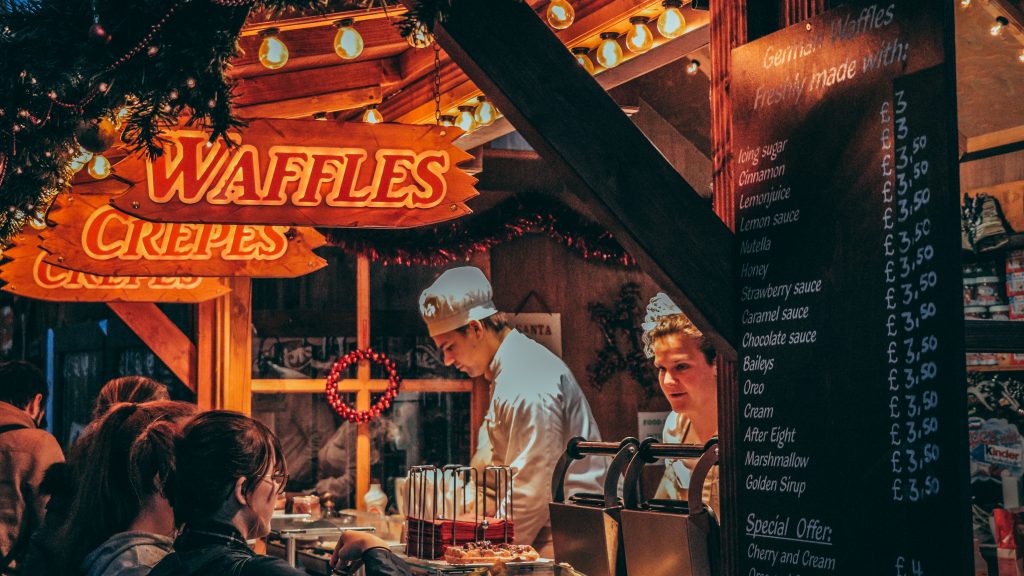 If you are trying to run away from the cold on your Christmas holiday to Europe, then you should consider going to a somewhat warmer destination. In this case, the Canary Islands are a great option! The Canaries are a Spanish archipelago located in the Atlantic Ocean, approximately 100 kilometers west from the coast of Morocco. December is the "coldest" month of the year in these islands – but it's still a lot warmer than most other European destinations, reaching highs of 20°C! Tenerife is the largest and most populated island of the Canaries. There is a lot more to do in the main city. However, if you want a more relaxed and secluded holiday with your family than you could even go to Gran Canarias, Lanzarote or Fuerteventura, where people are a lot more in touch with nature and the islands are less congested with tourists. Imagine yourself surfing in the morning, doing some yoga on the beach in the afternoon and lightning fire on the beach at night. This is what your family Christmas could look like!
4- Copenhagen, Denmark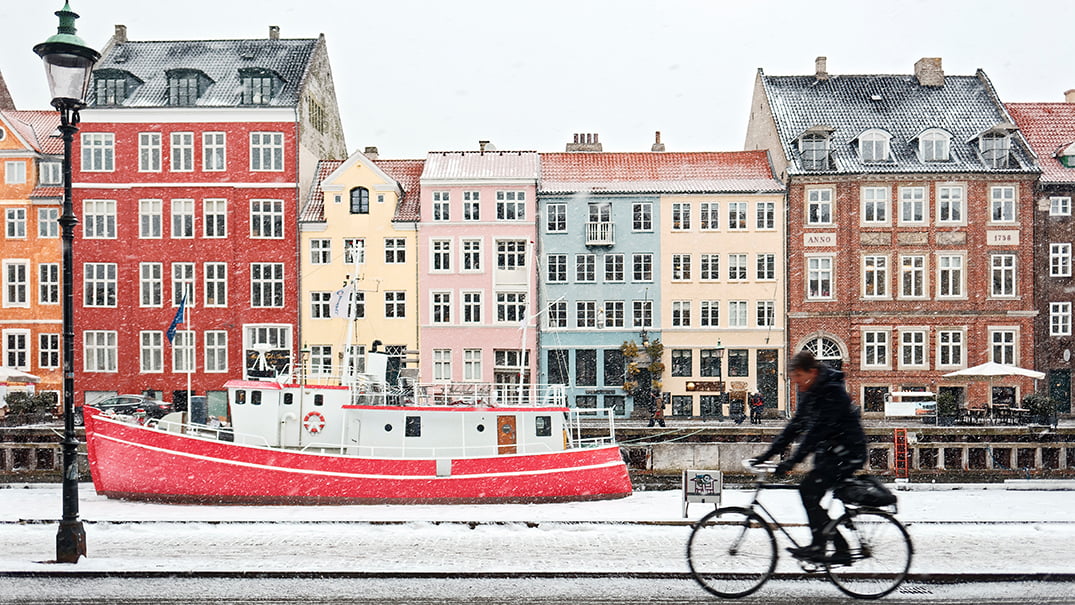 Copenhagen is a very culturally rich and engaging city. Copenhagen's National Museum is the kind of place where you can easily spend hours and hours losing yourself without even realizing it. But then, let's be real – your kids would probably start complaining mid-way through – so do not fantasize about the hallways of this wonderful collection of Danish art and culture for too long! There's a remarkable wealth of artifacts here that dates back to all eras of Denmark's past. The little mermaid statue is an absolute must when you're in Copenhagen. This is an instantly recognizable landmark inspired by Andersen's eponymous fairytale. It represents a – drumroll please! – mermaid. When you get up close to the statue you will be shocked by how small it actually is! Also, a visit to the Tivoli Gardens, Copenhagen's venerable 174-year-old amusement park, cannot hurt. Especially during the Christmas holiday season, the lights are simply stunning! You will get the opportunity to see three separate light shows that illuminate the skies every day during this incredibly festive season!
5- Innsbruck, Austria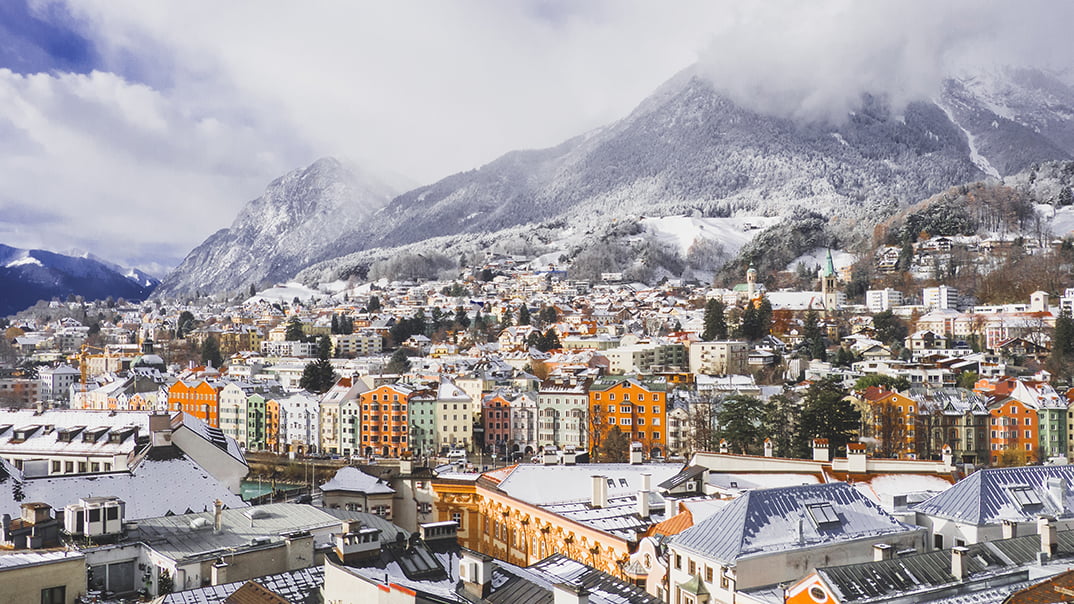 What better time of the year is there to ski – if not the Christmas break!? If you are trying to make the kids' school break into an awesome ski trip to take the family on a dreamy snow adventure over Christmas, Obergurgl in Austria is a fantastic resort for beginners that you should definitely have a look at! A one-day lift pass fro adults is €52, whereas for children it is only €34! The village is circa 2,000 meters above sea level, which means that Obergurl generally has plenty of snow – do not worry! There is no way you will get there in December or January and there is no snow! The ski Obergurl resort has 24 ski lifts that you and your little ones can enjoy together. However, if your kids do not feel like skiing, or if they are too young to cruise the icy sloped than you have the option of leaving the youngsters in safe hands with the Esprit Ski childcare while the adults go for a cheeky ride down the mountain!
The most important thing to do while you're in London is to check out the world-famous Winter Wonderland in Hyde Park. Although the general entrance to Winter Wonderland is free, there are a variety of interesting attractions, shows, comedy clubs and scary death rides that you have to book and pay for in advance. Compared to past years, this year's Winter Wonderland has loads in-store, with fabulous new attractions including the world's tallest transportable Observation Wheel, a new theme 'A Christmas Carol' at the Magical Ice Kingdom, a Season Ride Pass, Paddington™ on Ice, Mr. Men & Little Miss and a fantastic new programme of comics at the Winter Wonderland Comedy Club. This attraction, perfect for both adults and kids, is open from the 21st November 2019 to the 5th of January 2020. So hurry up – the clock is ticking! Some other things that you should have a look at doing when in London over the Christmas break are: shopping for gifts at the Southbank Centre's winter market or the Kingston market, check out the festive decorations and cheerful light displays around Carnaby Street, Regent's Street, Tower Bridge and Covent Garden, or even skating, either at the Somerset House, the Tower or London, or the Natural History Museum Ice rink! Once you touch down in London you will realize that there are endless possibilities and, in light of Christmas celebrations, whatever your family's heart desires, you will find in London.
Although Prague with its 1.3 million inhabitants is a relatively small city, hosted by an equally small-surfaced Czech Republic, it holds some of the most precious wonders that Europe gas to offer. There is so much to do and see. So start taking notes, because this will be the trip of a lifetime! You and your family will be delighted to know that in December Christmas Markets and European cities go hand in hand. Make sure you wear your comfortable shoes and brace yourself to hit the ground running in Prague. Any walk around the city will usually start or finish in the idyllic Old Town Square, which – at this time of the year is full of Christmas market stalls. But do not despair — there are Christmas stalls and markets dotted all around the city – you will get plenty of chances to shop for the people at home. If you're looking for the most scenic Christmas Market and prefer to just visit one then make sure you don't miss a visit to the Old Town Square Christmas Market and be sure to make your way up to the top of the Old Town Tower for a view from above! Since you are out and about, stop at one of the many pastry shops and get a Trdelník to share. Trdelník is a popular Czech hollowed-out pastry dough covered in cinnamon sugar usually topped with soft-serve ice cream. But this is not the end! Climb to the top of the Charles Bridge Tower, indulge in an incredibly delicious Czech hot chocolate from the renown Cafe Slavia, stroll along the Vltava river at night (with your turtle necks and thick gloves, of course), and let yourself be amazed by the beauty of this wonderful city!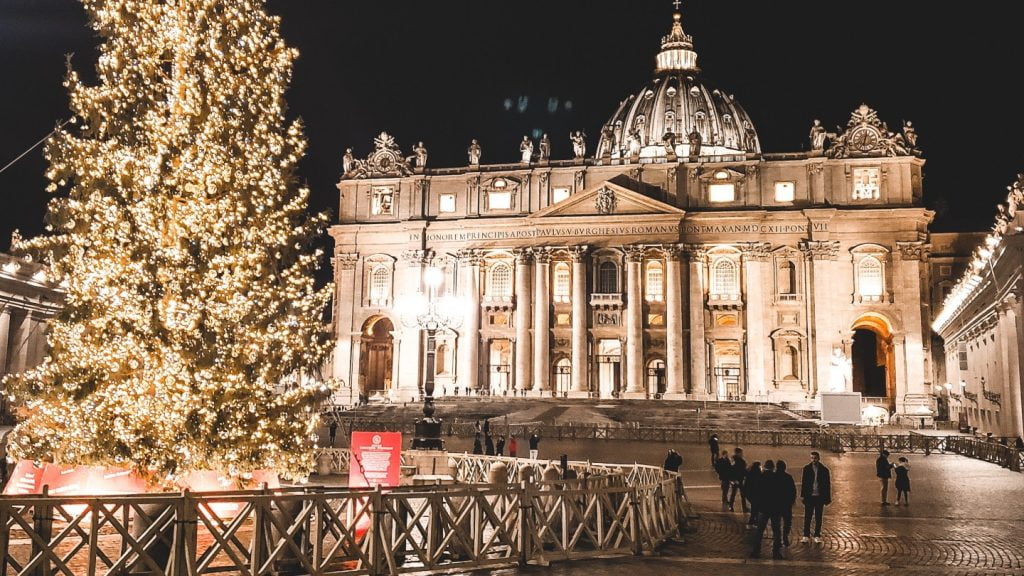 Last but not least, we have the timeless and picturesque Italian capital! Whether you have been to Rome during other periods of the year, visiting at Christmas is a completely different experience and one which you and your kids should definitely not miss. It is simply priceless to see the world-famous monuments and ancient ruins encompassed by Christmas spirit and colorful lighting!
The must-see things in Rome during Christmas time are the huge Christmas tree standing proud and ornate by the Coliseum, or the one in St Peter's square, the small and big, Medieval and Rennaisance churches or basilicas, the fun and quirky markets in Campo de' Fiori or Piazza Navona, and finally the incredible pasta and pizza that you will find in most restaurants around Rome. If you want to treat yourself and enjoy the city through the eyes of an expert, local tour guide, then consider taking a Roman Forum and Coliseum walking tour, hop on a segway or a golf cart adventure with the whole family. Read more about what to do at Christmas with kids in Rome.
Christmas in Europe is a vibrant amalgamation of incredible twinkling lights, amusing carols, and traditional concerts. If you are Christian, you can attend incredibly atmospheric midnight masses, and, if you aren't, there are plenty of other holiday cheers. Don't let the Family Christmas break pass you by! Make the most of your time in Europe. Plan ahead and pick your destination wisely!