All ready for Rome? Maybe not yet! Get some ideas on why a visit to Rome is really important.
Reading doesn't necessarily mean to spend time going through boring and stuffy history books. There are so many children's books out there made entertaining and educational at the same time. Books have the power to introduce us to worlds we never thought could exist, make us feel like a different person; The great thing is that you can pretty much read anywhere, in your down time, while you are waiting or while you are getting from place to place! (like the airport, in the car, on the plane, in bed etc..)
But what better way is there to read some of these books about Rome than when you're already on the plane preparing for the Eternal city? Here you go! Get ready!
Here is a list of books that can make your trip to Rome more exciting:
1.USBORNE – Visitor's Guide to Ancient Rome
This book is one of the coolest books for kids on Rome! It talks about the history of Rome and its culture in such a fun way that it looks like a real guide book for a real Ancient Rome vacation!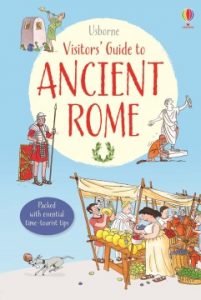 2.DK Family Guide Rome
This is a complete Family Guide book for those who are visiting Rome. It suggest different restaurants, places where children can play and many more!
3.ARCHEOLIBRI- Everyday life in Imperial Rome
This book intends to guide the reader through an imaginary journey into ancient Rome. Fun fact: It shows the reconstruction of Rome's famous sights!
4. Isobel & Imogen Greenberg – The Roman Empire
A very light book full of drawings but also information about Rome, from the Kings to the emperors. It also talks about the famous battles and Rome's most famous enemies (like the Carthaginians!)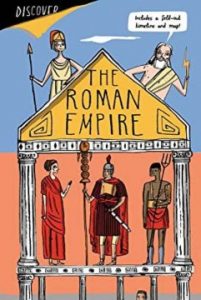 5.Rome: Everything You Ever Wanted to Know from Lonely Planet
This "Not for Parents" not-a-guide-book tells the story of Rome. It's like a secret book that your parents don't know about, how exciting!
I cannot tell you how relaxing it is to read especially these books that are made to share information but in such fun way! Learning while having fun? Yes, please!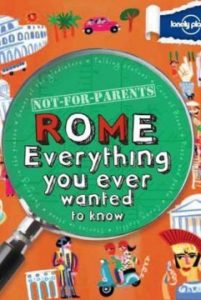 6.Horrible Histories – Rotten Romans
This book talks about the horrible side of the Romans in a FUN light (if you find them funny!) Their collection, as the title says, are books that shows us the horrible side of our history but it is written in such an hilarious way that kids will enjoy reading it!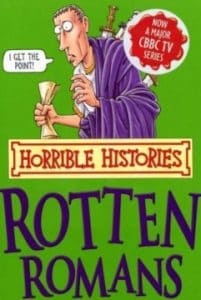 7.Rome with Kids – Pasquesi
This is more of a tour guide book. It suggests quick places for family friendly snacking, resting, or pit-stopping based on where you decided to go each day. It is an easy reference. This is a lifesaver for those who plan to tour the city by themselves!
And lastly, if kids are more into fiction, I highly recommend reading Caroline Lawrence's collection of roman stories (The Roman Mysteries), fictional stories about some of Rome's most famous men and women.

So what are you waiting for? Get those books ready, Rome is waiting!